3D Vichy Dermablend – Extreme Test
Recently, I had a chance to test new cosmetic from Vichy – 3D Dermablend. I found a sample in some magazine and I decided to see how it works and whether it is truly so marvellous. 3D Dermablend foundation from Vichy is recommended for girls with oily or combination skin prone to acne. It is interesting, but on my sample I read that cosmetic can be used by people with sensitive skin. In my opinion, any girl whose complexion isn't even and skin has signs of after acne scaring or pimples can test this foundation.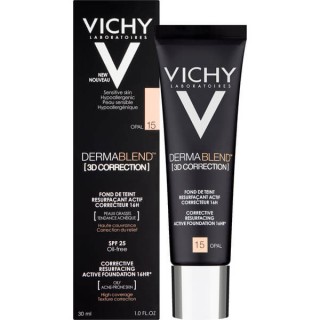 The cool thing is that, when you buy Vichy 3D Dermablend you get foundation brush as a present. I apply cosmetic with fingers – I just used it like any cream. Unfortunately, effect wasn't too pretty. My face was covered with smudges and dark spots. It is possible that application with brush would be easier, and make-up would look better. You have to do quite a work for final result to be satisfactory. Certainly, consistency of Vichy 3D Dermablend is plastic enough, so that application could be quick and easy. Precise applicator makes dosage of foundation necessary for make-up easier. One tube contains 30 ml/1.0 fl. oz. of foundation; my sample was enough for two applications.
Now, we get to the interesting part, i.e. results. According to the manufacturer, 3D Dermablend from Vichy makes complexion even and covers all imperfections. What is more, it conditions skin, lasts up to 16 hours and protects skin against sun radiation (has SPF 25). Though, I noticed that cosmetics has rather average coverage, because it covers only small imperfections and lasts up to 6 hours. Sadly, 3D Dermablend didn't cover all my after acne scars, and after few hours my skin started to shine. Furthermore, it highlights dry skin and blackheads. On the plus side, cosmetic isn't heavy so it cannot be sensible on skin – is truly light and delicate. It is highly possible that product takes care of skin, because it consists of salicylic acid and Amazonian trees extract.
3D Dermoblend from Vichy is available in four shades: Opal, Nude, Sand and Gold. My sample was in Nude shade. It is quite dark colour that is why it was differing from my skin significantly. I think Opal shade would be much better for me. And now, time for something interesting. Face covered with foundation in Nude shade seemed lighter in the artificial light and darker in the day light. Be careful, when you choose your shade.