How does look my everyday face care?
Hi Girls!
Lately, many of you asked me to tell you how does my everyday face care look like. I have to admit it's nothing special. I don't use expensive cosmetics or world famous brands (with some exceptions), because I rather prefer natural and ecological ways of face skin. Let's begin!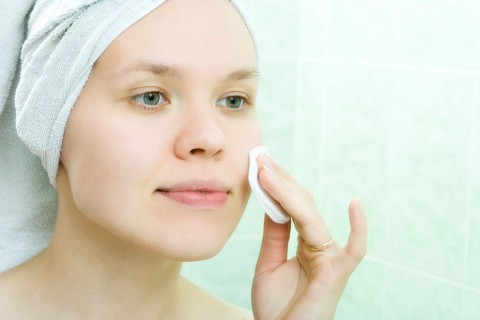 I get up quite early, that is why my skin needs some energy and awakening. Certainly, many of you will be surprised with what they'll read. I apply to certain cosmetic rule according to which in the morning I don't wash my face, use tonic or scrub etc. I think that in the morning skin is the prettiest, the most fresh and doesn't need such cleanse. That is why right after I get up I use Orientana tonic with ginger and lemon grass. Ginger warms up and boosts blood circulation and lemon grass lightens discolourations. Additionally, it smells great! What's next? Then comes the time for the make-up. Seriously I don't use any creams, make-up bases or other staff like that.
I start make-up with Pharmaceris moisturising foundation in natural shade. This foundation is great because it smooths skin complexion and nourishes. The best thing about it is that it contains SPF 20, just right for winter and autumn days. When the summer comes I choose foundation with higher filter or  I additionally use cream with higher factor. (I had once sunscreen cream from Avene, but I prefer using cosmetics from one line.) The powder I use, you probably know very well. It is matt powder Lily Lolo. I apply small amount of it, because I don't need strong matt and I don't have any problems with shiny skin. I don't like application of several layers: concealers, bronzers etc. I have only very light and natural blusher. On the lips I administer only lip balm, also in the summer. I use almost non eye shadows. I make eye make-up only for bigger occasions or nights out: friend's wedding, party, cinema. For everyday make-up I use colourless mascara from Miss Sporty. During the day, but very rarely, I use shine control tissue. Then I powder the skin.
In the evening comes the time for make-up removal. I don't have bigger expectations for this cosmetics either. For make-up removal and face wash I use Cetaphil, which is great: it moisturises, soothes irritations and nourishes sensitive and acne skin. I buy it in the pharmacy for about 15£. (For those who want to know everything my gel shower and body balm is from Nivea.) On the washed face I apply Johnson's Baby aloe oil. Then I go to sleep 🙂
That would be it when it comes to my face care. I wonder what cosmetics do you use. Write to me and take care girls!