My couperose skin care with Black Orchid
My long time problem is couperose skin that I have to deal with every day. I tried many methods for it, but it was all for nothing. Until now my only hope was foundation with great cover and concealer for red skin changes. Few weeks ago, I bought strengthening cream Black Orchid from Farmona Herbal Care. Today I'd like to tell you a bit more about my everyday skin care of my face with this cream.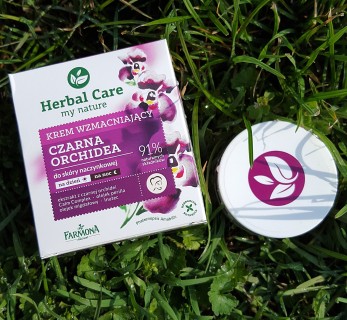 Strengthening cream with black orchid is the newest product from Herbal Care, dedicated for skin care and regeneration of couperose skin. Since I can remember I had sensitive skin that needed special care. For about two years, I have also problem with blood vessels, which appear on almost entire face and are really unaesthetic. They can even crack and spill what results in red spots right underneath skin surface. I used many creams for couperose skin, but there usually were no effects. With strengthening cream Black Orchid Herbal care it is entirely different!
What's in composition?
Cream is almost completely made out of active ingredients, and a half of composition isn't taken by (like in other creams) parabens, alcohols, paraffin wax, colourants or other ingredients like that. It is a huge plus. Composition is short and brief. First and most important ingredient is black orchid extract, that highlights and has inflammatory properties. Next we have two vegetable oils – perilla oil with antioxidants and sweet almond oil that softens skin. Another active ingredient is Calm Complex ( tightens blood vessels walls) and Inutec (moisturises and protects).
How does it work?
I have to admit that as usual I was sceptical about manufacturer's promises, because more than once I was estrange with some products, which supposes to work miracles, but didn't work at all. Strengthening Black Orchid cream, most of all perfectly moisturises and my skin is not as tight as usual. After first two days of using cream for couperose skin from Herbal Care I noticed that those red changes begun to disappear and there were no new changes. It turned out that orchid cream from Farmona cures skin problems, though not without discomfort. My skin after application for few minutes slightly prickles, which might be a bit uncomfortable, but it is a side effect that I got use to and I'm willing to accept. Especially, that strengthening face cream from Herbal Care is really effective!