My moisturising cream – YASUMI Ultimate Moisture Hydrating Cream
It is time for the review of product I use for quite some time now and have fixed place in my bathroom. Since I applied Ultimate Moisture Hydrating Cream for the first time I became a huge fan of Yasumi cosmetics. I invite you to read, why intensive moisturising face cream from Yasumi is so good?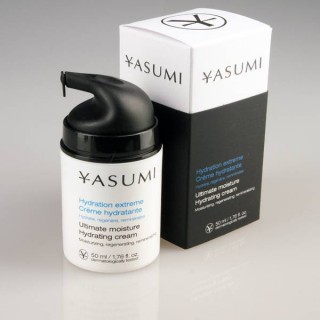 PACKAGING
Cream is locked in handy bottle (50ml/1,76fl.oz.) with pump, that guarantees freshness. Yasumi pays great attention to how their cosmetics are packed. I ordered cream from original site and as it turns out to two ordered products (I bought Ultimate Moisture Hydrating Cream in set with eye cream) I got beautiful face towel from the brand. Small thing, but made my day. 🙂
FORMULA
I never save on cosmetics. In spite of that Ultimate Moisture Hydrating Cream turned out to be extremely efficient! One press of pump and you get enough cream to cover whole face with thick layer, and with less thick layer if you also cover neck. Texture of face cream from Yasumi is quite average – cream isn't oily and doesn't weight skin down, but I wouldn't say it is light cosmetic – rather very full bodied. It absorbs very well and leaves skin with pleasant scent.
HOW DOES IT WORK
Ultimate Moisture Hydrating Cream is a product rich in active ingredients supporting moisture, regeneration and nourishment of face skin, i.a. marine collagen, chitosan, vitamin E, sea algae, NMF and wheat sprout oil. Rich composition is supposed to influence Yasumi face cream properties.
(+) Optimal moisture and nourishment of skin
This is true that Ultimate Moisture Hydrating Cream leaves skin well hydrated after one application and effect is truly long lasting. Thanks to this product I stopped worrying about dry skin and locally dried out skin.
(+) Hydrophilic film on the surface of the skin
Intensive moisturising face cream from Yasumi is very good at preservation of hydrated skin and prevents water loss. The protective layer on the surface of face is insensible.
(+) Soft and smooth skin
My face gained healthy look, smoother and softness after one week of regular use and I can feel it. Preservation of hydrated skin thanks to Ultimate Moisture Hydrating Cream really works!
(+/-) Cream as a make-up base
I cannot assess how this cream works as a make-up base because I use only eye pencil and mascara. I like expressive eyes, but I don't use foundations. However, I have to admit that Yasumi Ultimate Moisture Hydrating Cream is great at equalising skin complexion.