Papaya face mask from Orientana – Does it remove discolourations?
Spring is coming, sunny days, long evenings and warm nights. I decided to prepare my skin for this occasion, so it would look stunning and glowing. So, I come to you with new test of a product that I lately lay my hands on, i.e. removing discolourations Orientana mask.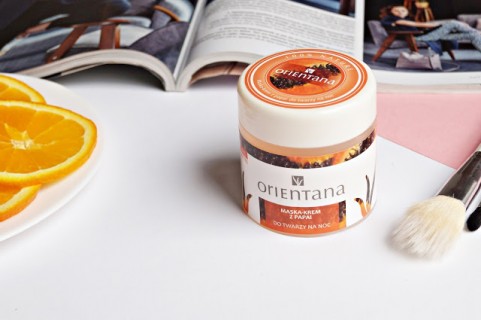 Orientana is my favourite Polish brand that manufactures ecological cosmetics with natural ingredients. Organic face cream-mask is a product from Orientana with innovative formula, natural composition and great effects, on which I particularly count on after winter to prepare my skin for warmer days.
Innovative formula
Face cream-mask with papaya from Orientana is a very light face gel that has subtle peach colour, is clear and almost transparent. It has standard plastic jar with orange design. Papaya nourishing product combines within properties of face mask (intense nourishment) and face cream (fast absorption). Orientana face cream-mask hasn't got any characteristic scent – it can be described as sweet and barely discernible. About this mask I can say three more things – very efficient, easy application and non-greasy. Big plus is that papaya masks from Orientana do not need to be rinsed, which differs them from other face masks and makes use of this product significantly more pleasurable.
Active ingredients
Very nice surprise was the composition. Face cream-mask from Orientana is based mainly on extract from fermented papaya fruits enriched with Tibetan oat extract. Besides those ingredients we will find in it also natural disaccharide from sea algaes, castor oil, jojoba wax. But going back to the two most important ingredients, it is worth to mention about their properties. Papaya is rich in vitamin C and E, folic acid, minerals (magnesium, potassium, zinc) and natural antioxidants (lutein, lycopene, arginine). However, Tibetan oat contains gluten and polypeptides.
Complex properties
Orientana tout its face cream-mask with papaya mostly as a solution to a problem of discolourations – product is expected to remove visible skin changes, lower visibility of discolourations, whiten freckles and ensure even skin tone through normalisation of melatonin production in skin. It really works. I noticed that my face gained unitary complexion that I counted on. As for the face mask those are not the only properties it has. Face cream-mask from Orientana also moisturises, cleanses, smoothers and makes skin elastic (small wrinkles disappear after regular use). Face gains healthy look.