Sesderma Kojicol Plus Skin Lightener Gel – did it help my skin?
Hi Girls!
At last, I decided to end my struggle with discolourations! Some time ago I bought Sesderma Kojicol Plus Skin Lightener Gel. This cosmetic is recommended for normal, combination skin as well as heavy blotches caused by cosmetics, pharmaceuticals, sun exposure, pregnancy and especially suitable for acne spots. According to the manufacturer, this product makes discolourations lighter, skin complexion even and soothes inflammations. And how did it work for me?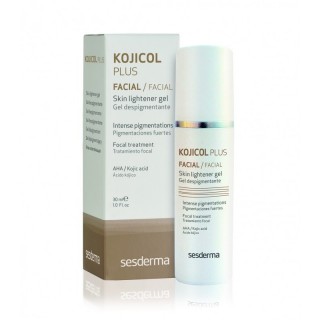 My journey with Kojicol Plus Skin Lightener Gel from Sesderma begun after visit at my beautician. I had exfoliating treatment and my beautician added kojic acid and glycolic acid (main ingredients of the product we're discussing) to my face mask . After treatment my skin was smooth and calmed, and part of my irritations and discolourations disappeared. I decided to find cosmetic with similar composition, so I could use it at home. I bought Sesderma Kojicol Plus Gel via the Internet and picked up at local pharmacy. Price of this product was quite high, but maybe some of you will try it anyway. In one packaging with pump is 30 ml/1.0 fl. oz. of product with dark brown colour, semi-liquid consistency and quite pleasant scent.
My greatest issue were (and still are in a smaller extent) after acne discolourations. I think I've tried everything to get rid of them! I felt like I have to try Sesderma Kojicol Plus Skin Lightener Gel because of its composition. It consists of Kojic Acid, Glycolic Acid, Alpha-Arbutin, Emblica, Phytic Acid, Boswellic Acid and Mulberry Extract. All ingredients focus on lightening, exfoliating, healing of inflammations and making skin complexion even. After treatment with this cosmetic, face is moisturised and skin regenerated. Most of discolourations I had on my cheeks and chin disappeared or are a bit lightened, and my skin on forehead (where I had after acne scars) is smoother. I can say with full confidence that Sesderma cosmetic truly works. Of course, that is not the effect I dreamt about, but I will keep using it and hope for 100% satisfaction.
In healing of discolourations very important is proper application of Kojicol Plus Gel from Sesderma. You should do some peeling and apply cleansing face mask. This way cosmetic will have easier access to deeper layers of skin. Gel should be applied twice a day and if you have sensitive skin then combine treatment with use of your favourite cream or serum. I think, that best idea would be to mix Sesderma gel with serum with vitamin C. During treatment with this product you should always use sun filter creams.
And what are your ways for elimination of discolourations?