This weeks favourite: Toning up TEAOLOGY Cream
I love cosmetics from reputable chemist's, because then I know that I will always buy products of a great brand and in a high quality. Lately, I focus on creams, because I was on a search for a perfect tone up body lotion. I was, because I found my favourite at the beginning of last week. Let me introduce TEAOLOGY Jasmine Tea Firming Body Cream.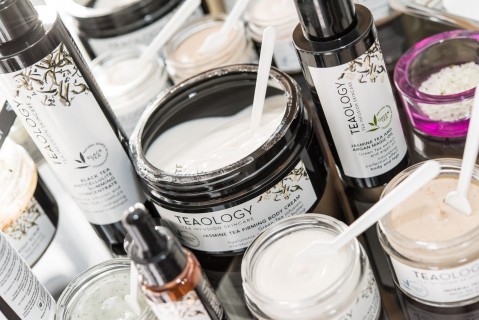 TEAOLOGY – tea skin care
Let me tell you something about the brand. This newest cosmetic was released by an Italian company – Selcos. TEAOLOGY has an advanced formula for a skin care of face and body. Each of products is based on the highest quality teas. The distributor of the product is Douglas perfumery, so that is where you have to look for toning up TEAOLOGY cream, which I want to introduce to you.
TEAOLOGY – toning up body cream
TEAOLOGY is a brand, which meets expectations of women like me, in search of safe, natural and effective cosmetic that will tone up my skin. Jasmine Tea Firming Body Cream has a silky formula based on few basic natural ingredients.
Jasmine green tea infusion – strong antioxidant,
Hyaluronic acid – moisturising, revitalising and firming ingredient,
Shea butter – vegetable ingredient with strong nourishing and elasticity properties.
Scent:
Jasmine Tea Firming Body Cream TEAOLOGY is a beautiful composition of very pleasant and sensual scents. To me it smells like a stunning jasmine. It is a long lasting and fresh fragrance.
Formula:
Jasmine Tea Firming Body Cream has a consistency of a thick blancmange. Applied on a skin, absorbs fast and leaves insensible (non-greasy) layer. It is extremely efficient cream.
How does it work:
There is a good reason why TEAOLOGY became my favourite body cream. After first application of the lotion skin became soft, smooth and delicate. However, during the week I noticed that my skin is much more elastic. Particularly skin on legs is tightened in a very pleasurable way.