My propositions on classical make-up for any occasion
Make-up freaks (like me) just love to experiment with make-up, however, at the bottom of our hearts we have those few dependable make-ups, that just always work. Classical make-up is the best because it is well known by us and we can recreate it in an exactly the same way every time. Below, you will find my personal set of classical make-ups on any occasion.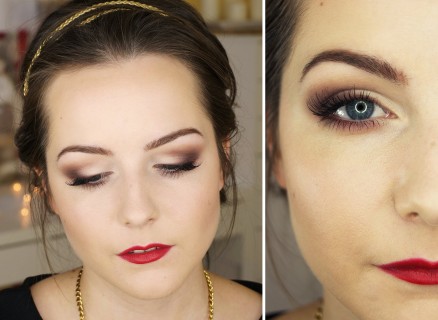 EVERY DAY MAKE-UP "NO MAKE-UP"
Placing "no make-up" as an every day proposition is a little bit stretched, because this kind of make-up is perfect for any kind of occasion. With natural and glowing face we will feel great wherever we are: home, work, church, wedding, funeral or date – just whenever you don't feel like expressive make-up.
FOR A GOOD MOOD – HIGHLIGHTING MAKE-UP
In my opinion, this make-up is also proposition on any occasion, however, I know there are women who would disagree, because they would much rather prefer to avoid using this type of make-up during the summer or at work, where we all spend few stressful hours. Under such conditions our skin has a tendency to shine and an additional highlighting it is unnecessary. On the other hand, you cannot deny it that some lip-gloss, highlighter, glowing eyeshadow and a bit of an highlighting powder is a classical proposition to cut out some years and cheering up your face.
ON A DATE – MAKE-UP WITH INTENSIVE LIPS
Standard make-up with brown eyeshadow and some juicy lipstick is also classical combination, however, not as much universal. You'd rather not go to work with a neon pink lipstick, but we know there are some pretty brave women out there for which this is a normal thing. Despite of that I leave this make-up only on occasions where I want to draw this kind of attention on my face i.e. party or date.
EVENING MAKE-UP – SMOKY EYES
Not all women like this kind of make-up, but I just cannot pass over "smoky eyes". If you want to look elegant in the evening then "smoky eyes" is your make-up – with lips in a nude tone for a subtle look or intensive lipstick for a wild effect. Executing classical "smoky eyes" isn't easy and takes a lot of practice to not make a panda out of yourself. 🙂
FOR A GALA – RED LIPS AND BLACK EYELINER MAKE-UP
It couldn't get any more classical than that – a make-up in Audrey Hepburn style is a classical elegance, exquisiteness and pure woman's beauty. Eyeliner on your eye makes it seem longer and more attractive, while red lips are adding some juice to the whole concept. You just cannot walk by unmoved next to this classical make-up, one might say, for a lady.