Nanoil Retinol Face Serum: My Game-Changing Anti-Wrinkle Treatment!
I believe that prevention is better than cure, and that's why I started using a retinol serum a few months ago. I'd read so many wonderful things about it so I felt I had to give it a try. Did it turn out to suit my skin? Is it a good remedy for my face wrinkles? Read on to find out!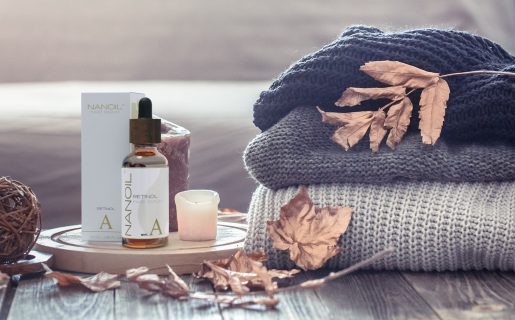 Why did I decide to try retinol?
As I've already mentioned, I read about this ingredient a lot. All of the sources I came across gave the same picture: retinol is the best substance if we want to delay aging. It is a derivative of vitamin A which is called a vitamin of youth. I had to give it a go!
Why did I choose a retinol face serum from Nanoil?
It was really hard to make a choice! It turned out that many cosmetic brands introduced retinol-based products into the offer. I was sure I wanted serum, not cream, because it has a more intensive effect. While choosing the specific product, I relied on the reviews posted by users online. Nanoil Retinol Face Serum gets lots of high opinions, plus I like the price (cheaper than other serums I considered) and size (the bottle has 1.69 ounces).
Is retinol a good remedy for wrinkles?
I didn't notice any spectacular effects at first, but the face definitely looked better after a month or so. I've been using the serum for three months on a regular basis. The skin looks better but it is also much healthier. Without any doubts, Nanoil Retinol Serum is a cure for face lines!
How does the serum do away with wrinkles?
First of all, the lines on the forehead are smoother. The skin is plumper, softer and more elastic. I know it's not just a temporary effect because retinol penetrates the skin and increases production of collagen which is a protein that keeps our skin young-looking. I'm not going to give up on this product. I'll definitely keep using it regularly.
What else does the Nanoil Retinol Face Serum do?
The radiance-boosting, moisturizing and nourishing effects were the most striking! I had some old acne marks on the cheeks and Nanoil made them fade. My face looks healthy and glowing almost every day.
A few facts on retinol that you should know
Retinol really brings tons of benefits but we must remember about a few key things during the treatment:
use it only during an evening routine (never in the morning!)
don't use it every day, two or three times a week will do
pregnant or nursing women can't use any products containing retinol
Where will you get your Nanoil Retinol Face Serum?
It is available on many websites concerning beauty. I ordered my serum through the official product webpage www.nanoil.co.uk because I always buy it together with a vitamin C serum (another great choice).
Please let me know if retinol is your remedy for wrinkles too! <3