Serum for Broken Capillaries: Review of Nanoil Anti-Redness Face Serum
Hey!
Do you use a face serum in your daily skin care routine?
If not, I'm curious why. The truth is it is one of the basic skin care products. I believe each of us should have it in our beauty kit. I do and want to tell you about my choice today.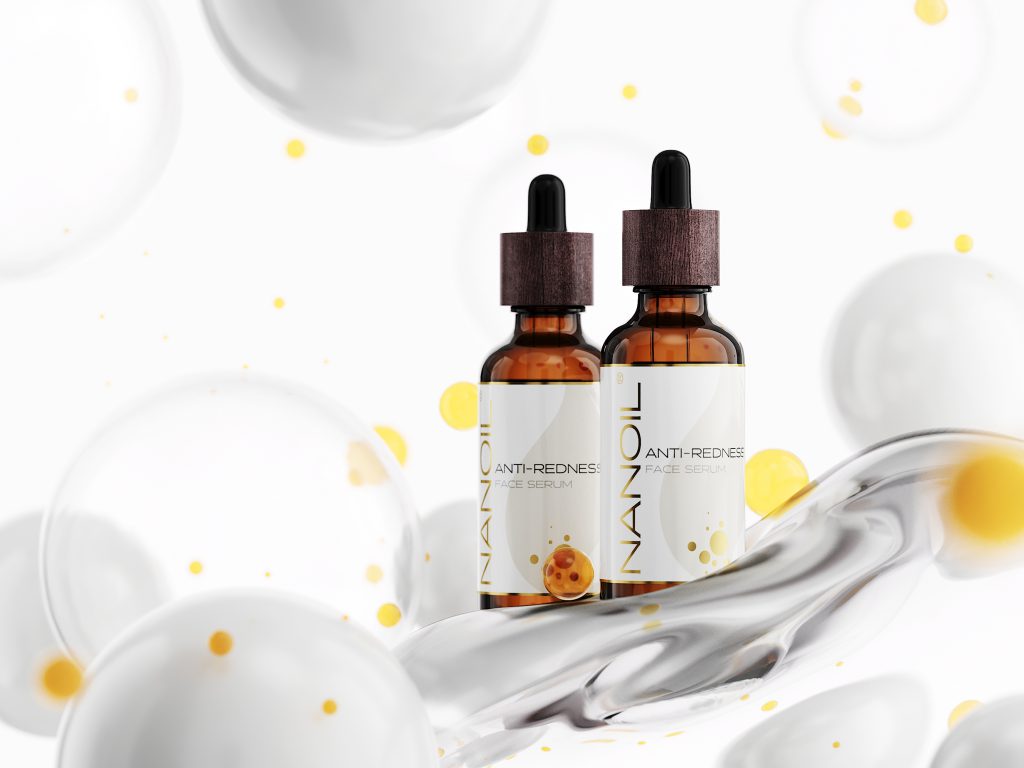 Face serum: my skin-care must-have
I've been using a facial serum regularly for a few years. I try and test different formulas and check which ingredients are essential to my skin. I love serums for the light texture and working inside the skin, not just on its surface like a moisturizer. That's why I always use serum first and then apply a moisturizer to create a layer on the skin's surface and prevent loss of water and nutritional ingredients. I recommend you to try this combo – you'll love the effects after just a few uses.
The result obviously depends on a product you choose. Nanoil Anti-Redness Face Serum is my favorite.
Nanoil serum for couperose skin
Why would I choose a serum for couperose skin if there are six different serums in the Nanoil offer? Because my skin is easily irritated and flare-ups are common while Nanoil Anti-Redness reduces the unwanted symptoms and brings relief.
Nanoil Anti-Redness Face Serum isn't exclusively made for couperose skin, therefore, it is also a good choice if you deal with:
acne-prone skin
acne rosacea
easily-irritated complexion
sensitive and reactive skin
signs of aging
First impressions after using Nanoil Serum
You won't regret trying it! I was pleasantly surprised because I could really feel it started improving my skin from the first use! <3
As far as the usage goes, we need to remove make-up and wash the face as we usually do in the evening. Then, we apply serum with a dropper, massaging it into the face skin using our fingertips. After a few seconds, the face feels relaxed, perfectly moisturized and relieved. Irritations, redness, tight feeling and discomfort are gone.
What does the Nanoil Anti-Redness Face Serum do?
There are even more benefits of course. Apart from soothing irritated skin, such products should have an intensive conditioning effect to restore the skin's health and make it look lovely. Nanoil Serum fulfils this role ideally!
It minimizes skin's proneness to irritation.
It strengthens weak capillaries and prevents them from breaking.
It combats "spider veins" and other skin imperfections.
It increases elasticity, smooths the face and revitalizes.
The protective effect isn't so obvious but it's worth mentioning: Nanoil Anti-Redness Face Serum protects from all triggers that may irritate sensitive skin, for example the sunlight, heat, toxins, pollution, etc.
Brief analysis of ingredients in Nanoil Serum
What does the INCI of Nanoil Anti-Redness Face Serum say?
The major ingredient is buckeye extract which strengthens and seals the blood vessels – it is blended with vitamin B3 which has a similar effect. The formula also holds anti-inflammatory linden extract, skin-revitalizing cypress extract and antioxidant-rich Punarnava extract. That's all! Nanoil Anti-Redness Face Serum has surprisingly simple components which turn out to be a perfect blend for couperose skin.
What do I make of the serum by Nanoil?
You must have noticed I'm big on Nanoil products but I always point out any mistakes and shortcomings if they show.
In this case, I have no objections. It's a perfectly-composed serum for couperose, acne-prone, sensitive and hypersensitive skin. It will surely help if your complexion is weighed down by heavy formulas. It is light-textured, packed with natural extracts and 100% vegan. Plus, it works by soothing the skin and restoring the balance from the first use. Try it and feel the difference.
Isn't that all we want serum to do?
To me, it is. I encourage you to check www.nanoil.co.uk: you can feel the effect on your own skin.