Lancôme Juicy Shaker – Shaking Innovation in Make-up
Cosmetic innovations are something I love! Today I would like to introduce to you some shaking new lip gloss from Lancôme, mainly Juicy Shaker. This innovational lip gloss is truly shaking, because to be able to apply it you have to… shake it! Funny, right? I'll explain.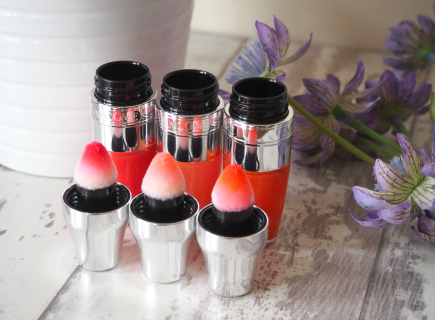 Some history
Lancôme was inspired to create Juicy Shaker by two products, which sadly I wasn't able to know and test, because at that time I didn't even know what the make-up is. First product is Shaker, lipstick designed in 1946 by the brand's founder, which symbolised glamour life style. The second product was a rad opposite, i.e. released in 2000 lip gloss Juicy Tubes with sour, fruity scents. Just imagine what can bring combination of style and class with a fruity extravagance? I know, because out of this combination was born Juicy Shaker!
What is Juicy Shaker like?
Lancôme likes to surprise, so the slogan for the newest lip gloss is "shake, twist and fall in love" (by the way, really catchy). This lip gloss is a bit pricey, but we pay those 18£ for the innovation. It can be bought in several shops, though my search for Juicy Shaker was a bit longer, because it wasn't available in as many of them as you'd think. Bi phased oil for lip make-up is quite a surprise for me. Why?
Let me start at the beginning, i.e. packaging – funny, little packaging in shape resembling tiny shaker with silver top. The bottle is not the only surprise in Lancôme Juicy Shaker. Another innovation is an applicator – instead of standard applicator on the stick, we have here quite big cone shaped sponge. The sponge absorbs product through small holes in packaging, when we shake the lip gloss. Contrary to appearances it is quite precise and easy in use.
Juicy Shaker has truly fruity formula – not only has beautiful fruity scent, but also tastes great, what will be a big plus for those of you who tend to lick the lip gloss out of their lips. I do not do that, but with this lip gloss I constantly feel like doing so. Bi phase formula (liquid pigment and nourishing oils, which mix during shaking) is quite liquid, but applies very well. On my lips lip gloss dries in half of the minute and creates satin, delicate and glossy finish. Oils additionally moisturise and nourish lips, what is a big plus in a lip gloss!
Out of 14 available shades I chose three most beautiful shades of Lancôme lip gloss – intense red Juicy Shaker Cherry Symphony, subtle powder pink Freedom of Peach and the colour of delicate raspberry Juicy Shaker Wonder Melon.