AMC Brow Liner Gel from Inglot – The story about why I started to outline my eyebrows
A couple of years ago I didn't think about outlining my eyebrows and for a long time I was resisting this make-up trend. Of course, I always regulated my brows with tweezers, but I never thought about painting them with colourful cosmetics. Thanks to Brow Liner from Inglot I noticed the benefits of this method and saw for myself that the eyebrow make-up can be natural, and not overdone.
I would like to talk mostly about what convinced me to AMC Brow Liner Gel. I'd just like to point out that I wouldn't call it that, because it more resembles creamy eyeshadow than gel. But in no way it makes it less great. 🙂 It is the best product for eyebrows and I'm really glad that Inglot Brow Liner Gel got in my hands as a first product of this type.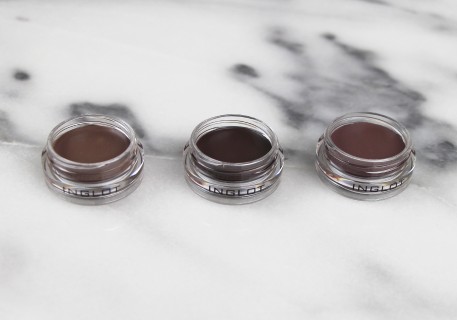 BENEFITS OF BROW LINER FROM INGLOT
Colours choice – it is most definitely the greatest advantage of this product, because we can choose out of 12 shades of AMC Gel Brow Liner. For me perfect is No.15. I didn't choose it by myself. I thought that if I have to buy eyebrow product then at least I spare myself the necessity of looking for matching colour. I went to the Inglot's counter and asked for help.
Price – as for 0.07 Oz jar, the price may seem a bit over the top. But if we take into consideration the quality of product, great efficiency and of course price of similar cosmetics of other brands then it turns out that Brow Liner Gel from Inglot is an affordable investment.
Products Formula – if I, the amateur without previous preparation and tries, could make a natural eyebrow make-up after few tries then it means that AMC Brow Liner Gel is really easy in application and gives perfect effect without larger effort.
Pigmentation – AMC Brow Liner Gel has in no way worse pigmentation than a lot more expensive products for eyebrow stylisation, which I had chance to test a bit later. You don't have to use much of the product to create natural eyebrows effect.
Efficiency – undeniably this small jar holds really efficient formula, and it's all thanks to that you don't have to use much of the product to have amazingly effective eyebrows.
FLAWS OF AMC BROW LINER GEL
Durability in contact with water – that is the only flaw I can think of that AMC Brow Liner Gel from Inglot has. As the product is very efficient in everyday use, because I don't have to fix it every now and then, but during bad weather (e.g. rain or heat) it becomes liable to rubbing off.