How does Nivea Care Nourishing Cream work for me?
For a really long time I've been looking for a face cream, which would moisturise my dry skin, but at the same time won't irritate it and absorb fast, etc. In short, I had a lot of expectations from the skin care product! How did Nivea Care work for as particular blogger like me? I decided to write the review, because I think the cosmetic is worth it!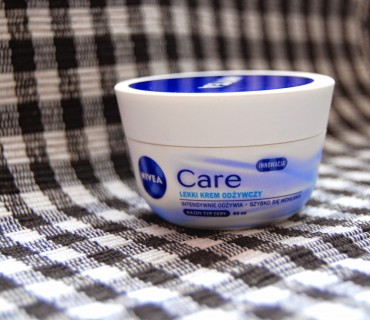 From manufacturer
Nivea Care is a light nourishing cream, which consists of hydro waxes formula that makes it light and exceptional. According to manufacturer cream is easy in application, absorbs instantly and leaves skin nourished and soft. It is dedicated for all skin types. What is the reality?
Ingredients
When we look at the ingredients we can notice it is quite short. In Nivea cream we won't find paraffin wax, which is new in Nivea products (on plus of course!). Formula was enriched with large amount of moisturising ingredients – glycerine, Shea butter, vegetable oils with fatty acids. Nivea could give the silicon up, but it is only one at the end of the composition.
Formula
Few words on this. Light nourishing cream is locked in characteristic for Nivea products white-navy blue, round, plastic jar. It has subtle scent also characteristic for Nivea creams, which reminds me of soap aroma. It is much softer and pleasant in fragrance. Its efficiency is a major plus!
How does it work
Cream truly absorbs fast and after few seconds there is no trace of it on the face, though in my case it can be because of very dry skin, which absorbs any moisturiser like a sponge. I don't know, however Nivea Care absorbs fast and what is more it doesn't sensitise or cause irritations. Almost every cream left my skin moisturised (as this one did) but very irritated and red. Nivea Care does not leave me with that problem. It maybe because of great ingredients or lack of paraffin wax, which always clogs my pores and causes blackheads. I am truly satisfied with Nivea Care nourishing cream, because:
nourishes and moisturises;
has great scent and is very soft;
absorbs immediately;
doesn't sensitise or cause irritations;
is efficient against its price.