How to treat facial skin after summer? Beauty products
Hello girls!
Unfortunately, summer is coming to an end. It is time to think about changing our current cosmetics to those that will take care of the skin in autumn. Are you are interested, what foundations and creams we should leave in the drawer, and which should be bought or taken out of the make-up bag? In this post, I described everything very carefully. Read it and enjoy!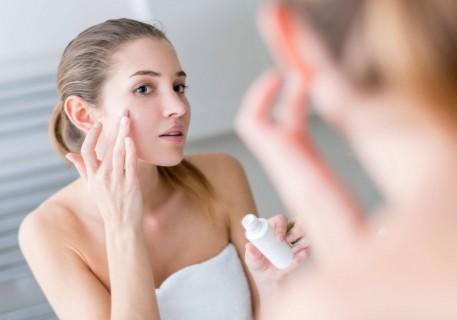 Before taking about coloured and skin care products, first, I will tell you about my basic principles when choosing autumn – winter cosmetics. I start with separating my beauty products into two bags. I put aside these creams, primers, foundation, powders and perfumes, which are not useful in the particular time of the year. Therefore, soon I will have to hide all light foundations, hair and body mists, and coloured mascara. I have to wait a whole year to use them again. Of course, if any of them expire, I immediately throw it away. Remember, girls, never use expired cosmetics. This will definitely worsen your skin condition.
What products will I use this fall?
When it comes to the selection of coloured and skin care products, I am primarily guided by their properties. I pay attention to whether a cream or lotion will protect my skin from the sun or the first low temperatures. Therefore, in fall, I reach for thicker and richer face creams. In this case, my favourite one is Cetaphil DA Ultra, which I use also in winter. I also do not feel the need to use such strong sunscreen. I replace my SPF 50 with a lower one, for example Avene SPF 30 in an orange tube. I do the same when it comes to buying foundations. This fall, I decided to try out L'Oreal True Match. During summer, I applied only mineral powder from Annabelle Minerals and a bit of blush from Bourjois. However, I will continue using my favourite eyeshadow palette from Dr Irena Eris Provoke and a waterproof mascara – Lancome Hypnose.
How to treat your face in autumn?
Autumn is the time when you can get rid of all the imperfections that have arisen under the influence of sunlight. I am talking about pigmentation and spots. I decided to start a new treatment with the use of glycolic and kojic acid and as always, vitamin C. Of course, I arranged an appointment at the beauty salon. Remember girls, never use cosmetics with high concentration of acids on your own! You must be supervised by a specialist, otherwise it might cause more harm than good.
Autumn is the perfect time to prepare your skin to low temperatures and freezing wind. Do not forget about hydrating your face, especially lips and the skin around your eyes. Therefore, use suitable cosmetics, rich in urea, hyaluronic acid and panthenol. A good solution would be a trip to the beauty salon to undergo a galvanic beauty treatment – in other words a cosmetic electrotherapy. At home you can use serum or ampoules. After considering all pros and cons, I decided to try out Biotherm Aquasource.
And what are your ways of autumn facial skin care?