Target: Imperfections! BIO Fluid with White Sapphire from Delia
Do you have skin with imperfections, which cover requires application of thick layer of foundation? I know that situation very well and probably many of my readers knows it too. Contrary to appearances, perfect skin is rare, and most of women have some problems with imperfections. The greatest problem in this situation is choice of cosmetic, which won't highlight flaws and will effectively cover them. The problem is that there are very little of such products on the market.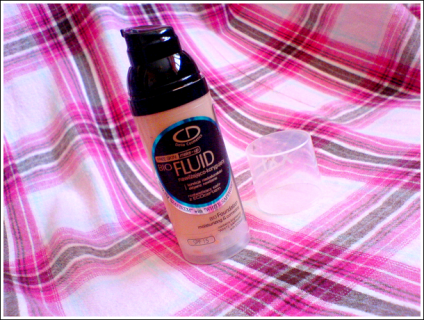 For some time now I use BIO Fluid Moisturising & Correcting from Delia Cosmetics with white sapphire as a foundation for the nights out. It sounds luxurious and extravagant, but don't worry – the price of Delia fluid isn't high, there are much more expensive foundations with much worse properties. I'd like to say that BIO Fluid from Free Skin Make-up line is a make-up cosmetic truly worth of recommendation.
Delia advertises their foundation as a product created for women who dream about perfect make-up and healthy skin. I was surprised that foundation bought for few pounds can be so light and harmless for skin. Usually tests of cosmetic like this one, ended up in the total bust, but this time it turned out that you can buy quality in a low price. After application your skin seems bare.
BIO Fluid with white sapphire is truly ideal way for perfect skin – it can cover all imperfections, doesn't gather in creases, blends with skin and makes skin velvety soft. I achieved similar effect with Affinitone HD, but that one was more expensive and much more runny. Delia Fluid Moisturising & Correcting has thick consistency and resembles a bit creamy foam, that is why it is so light.
BIO Fluid from Delia consists of mineral pigments and white sapphire. Those ingredients make skin radiant, eliminate discolourations, make skin complexion even and imperfection are effectively covered. Creamy foundation with white sapphire was enriched with moisturising Fucogel (whatever that is), which provides lightness and allows skin to breath, so you don't have to worry about clogged pores.