Tomato Strengthening and Face Protection with Oceanic AA Eco
I love friendly for environment AA Eco cosmetics with hypo-allergic formula. My skin likes Oceanic products, because they contain 100% natural ingredients and do not cause irritations to sensitive skin. Lately, my favourite cosmetic became AA Eco with tomato extract. Sounds funny? But it works!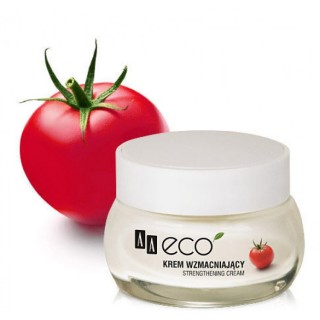 Product description
AA Eco is a strengthening cream with tomato extract, which is expected to strengthen skin's resistance and protect it against harmful UV radiation and pollution of the environment. Cream's formula is rich in vitamin C, which improves tightness of blood vessels walls and natural oils, which accelerate skin regeneration and sooth irritations. Sounds good, doesn't it?
For whom
AA Eco Tomato is a cream dedicated for everyday care of sensitive skin prone to spider vines. Oceanic strengthening cream is a natural answer to sensitive skin problems with tendency to allergies. That description perfectly characterises my face skin, so no wonder that I decided to test this product. Why is it my favourite? There are few reasons.
Composition
I mentioned above few ingredients of AA Eco cream. Biggest benefit of this cream is its natural composition. There are no artificial ingredients, colourants, preservatives, fragrances, alcohol, silicon or other harmful substances. Cream is based on tomato extract (Solanum Lycopersicum Fruit), and additional properties are provided by sunflower seed oil, jojoba oil and castor oil.
First impression
Cream has a solid and elegant jar. What is more, it has incredible, creamy texture, which resembles a bit bouncy cream or whipped egg whites – it is light, but compact. Cosmetic has pleasant scent, though it doesn't smell like tomatoes. 🙂
How does it work
Why AA Eco strengthening cream with tomato extract is my favourite? It is deeply nourishing preparation, which is perfect for dry couperose skin that I myself have. Applied and left over night provides proper nourishment, smoothers and strengthens skin. This cream would be best for winter season, when skin is liable to freeze, but also dry air in heated rooms. Oceanic cream with tomato extract brings relief and I forgot about spider vines a long time ago!