Spider Veins on the Face? The Best (IMO) Anti-Redness Face Serums
Good morning!
Have I already told you that I have a problem with spider veins that come back to blemish my face?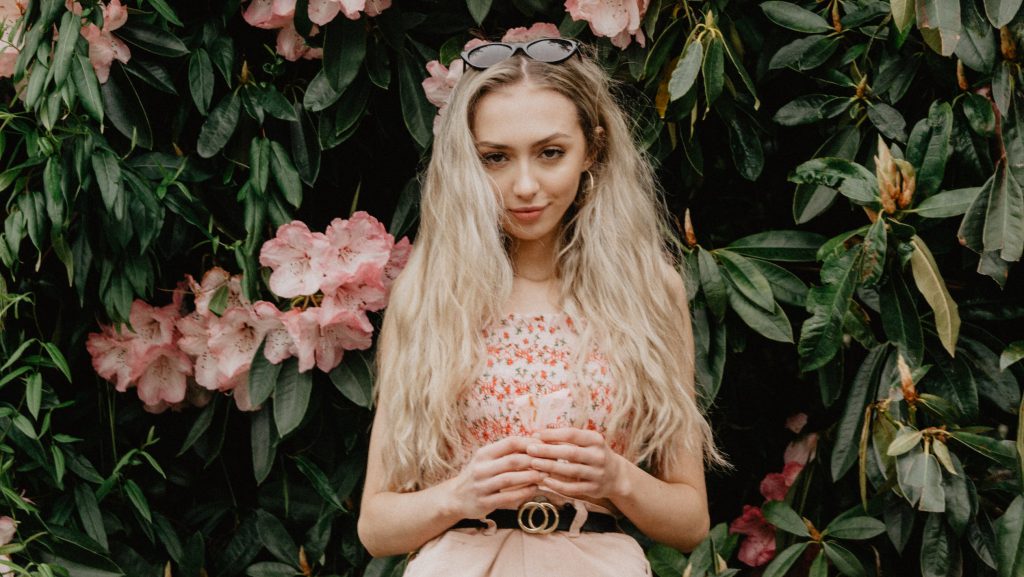 I can't define my skin as couperose because facial redness, irritation and blemishes aren't common for me – they appear but only occasionally. There are some weeks, however, during which my skin is literally covered with broken capillaries and gets triggered by almost everything: the touch, the sun, high temps.
Sensitive & couperose skin care tips
This skin type needs are completely different!
Putting on some face cream isn't enough. The thing is that sensitive and redness-prone complexions require something more complex, like for example face serum. Only such a highly concentrated cosmetic is able to maintain the balance, causing zero irritation whatsoever. It's also important to use only lightweight products, and this is what the majority of face serums are (but be careful with that).
Naturally, a couperose skin face serum should be formulated with the right ingredients. The most important are the substances that visibly improve the appearance of the skin, help it get healthier, soothe irritation and increase the elasticity of the blood vessels. Some of the substances are:
chestnut extract
mountain arnica
vitamins K and B3
And the delicacy! But I'm sure I don't need to mention this. Gentle washing done with alcohol-free cleansers, application of products made of natural ingredients and simple formula, avoiding mechanical peels and resigning from invasive treatments…
If you follow these tips, your reactive skin will be grateful.
Anti-redness serum that I recommend
Now it's time to list the products that are proven to help put couperose and irritation-prone skin back on its feet, saying figuratively. Below you're gonna find cosmetics that I used myself and that appeared to be perfect for sensitive, couperose and reactive skin. Actually, I reach for them when my skin is getting moody again, triggered by some unidentified and random factors.
Here is my short list of the best anti-redness face serums for couperose skin.
1. NANOIL ANTI-REDNESS FACE SERUM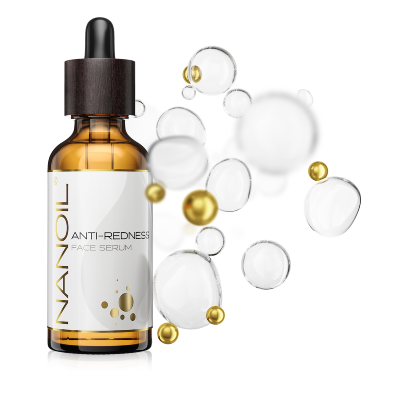 Nanoil is my favorite serum that deals with all problems typical of couperose skin. I like it for being super-lightweight. It's water-based and absorbs into the skin well – no clogging. Every time I apply a portion of Nanoil Anti-Redness, I feel as if some invisible scarf was covering my skin – it gets relaxed and soothed immediately. This product contains as many as 4 plant extracts: horse chestnut, linden, cypress and Punarnava. I believe that Nanoil anti-redness serum suits irritation-prone, sensitive and couperose skin perfectly. It should even deal with rosacea. Just give this product a go – one application a day suffices completely.
Learn more – www.nanoil.co.uk
2. MEDIK8 CALMWISE SERUM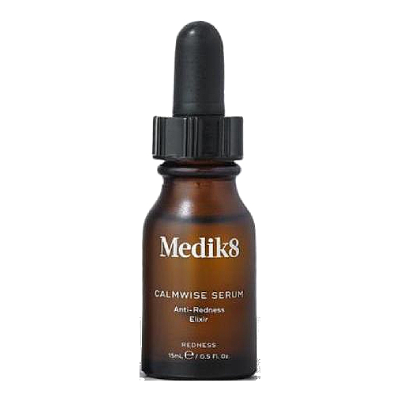 Medik8 serum for couperose skin is another amazing product. Being sold under the name of elixir, Calmwise serum actually does a great job when it comes to evening out skin tone. When you use it on a daily basis, it'll take you a few weeks to notice that the facial redness gets brighter and the skin is neither tense nor irritated. The formula of the soothing face serum Medik8 includes, among others, sage extract that repairs skin and combats free radicals. Vitamin of youth (E) and jojoba oil trap water inside the skin which improves the elasticity. Together, these nature-derived ingredients create a very interesting, all-vegan, lightweight cosmetic that may help you eliminate the majority of couperose skin concerns, provided that you use it regularly.
3. DERMALOGICA ULTRA CALMING ESSENCE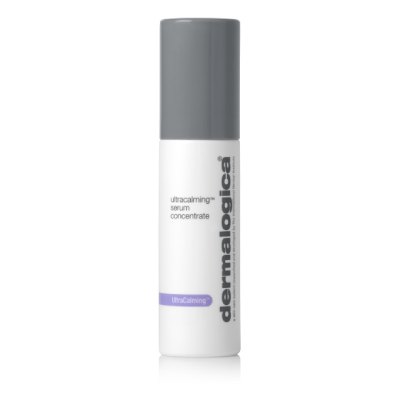 Among the products designed for sensitive, irritated and couperose skin, you can also reach for creamy products such as the essence launched by the Dermalogica brand. I used to apply it daily, and I can't complain – it's a really good soothing product. I definitely prefer water-based serums but I know some of you prefer creamy formulas – so I guess this one may be perfect for you. Licorice extract, propanediol and natural substances taken from oat seeds are responsible for bringing relief to irritated skin. The Dermalogica Redness Relief Essence formula belonging to the Ultra Calming series is designed to keep skin fresh. It also reduces the problem of skin sensitivity. I'd recommend it to anyone looking for a product that improves skin's defense mechanisms.
4. DIOR CAPTURE YOUTH REDNESS SOOTHER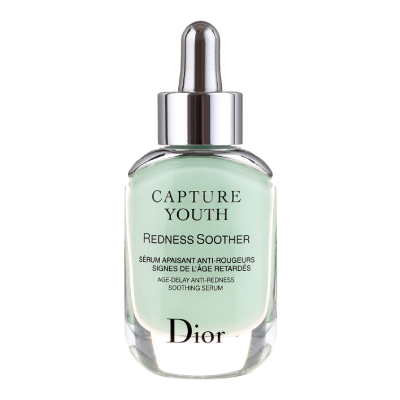 Do you have a slightly larger budget? If so, you may be interested in buying a soothing serum for sensitive skin launched by one of the most popular luxury brands – Dior. Capture Youth Redness Soother is a lightweight face gel-serum. It stands out among other soothing serums because of its green color that works the same way green concealer does – it camouflages red splotches. And this effect is an immediate one. Interestingly, the formula is said to be 79% natural, containing among others cotton peptides, iris extract (antioxidant) and moisturizing hyaluronic acid. The only thing that scares me off is the price. I don't consider it a long-lasting product either. But the effects are really impressive.
Let me know whether you like some of the products I've listed above. I'm waiting for your comments and thoughts concerning face serums for sensitive and couperose skin. Go ahead and leave your tips on how to deal with spider veins.
Till next time!